Nov 01, 2022 Journal entries
Application essay writing process.
How do I write a college essay?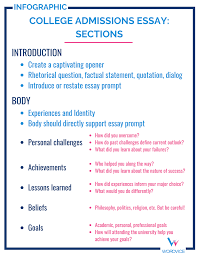 Many universities ask applicants to include a college application essay—usually a personal statement or similar essay—along with their application materials. With more students applying to selective colleges than ever, and with many of those colleges placing less emphasis on standardized test scores, the admissions essay can be a crucial component of the applicant's requirements. The college essay is one of the few areas of a college application where a student's voice can come through, in addition to being a chance to demonstrate writing abilities. or unimaginative. Also, some sayings may be relevant to specific cultures, alienating or confusing some readers. Everybody admires an underdog who overcomes adversity, but illuminating past missteps with the law isn't exactly the best way to make a good first impression on college admissions officers. While you shouldn't sanitize reality for the benefit of your readers, choose a college essay topic that at the very least presents you in a positive light.
The college admissions essay gives applicants the chance to demonstrate their personality, in contrast to test results and transcripts. The essays are crucial, according to Adam Sapp, associate vice president and director of admissions at Pomona College in California. "This is a student's time to really speak directly to the admissions office," he says.Prospective college students have only a few hundred words to create a good impression and increase their chances of acceptance in their essay, which is also known as a personal statement.
This may seem to put a lot of strain on you. According to Niki Barron, associate dean of admission at Hamilton College in New York, "I think this is the part of the application process that students are sometimes most confused by because they're looking at a blank piece of paper and they don't know where to start."This pressure might be increased by the fact that several universities have adopted a test-optional policy in the last year, which means that ACT and SAT scores will be taken into account but are not necessary. Other colleges no longer take such scores into account since they have become test-blind. Some admissions experts have argued that in the absence of test results, other components of an application, such as the essay, will receive more consideration.
However, just as each applicant is unique, so too are the criteria and priorities for admission to colleges. Being test optional hasn't affected the way we use essays in our selection process, and I wouldn't claim that the essay replaces standardized test results, according to Barron, who wrote in an email. "Our application assessment process always puts a student's academic readiness for our classroom experience front and center."
Expert essay writing advice emphasizes the value of being succinct, coherent, amiable, honest, and correct. Additionally, a candidate should demonstrate their intellectual prowess and provide vivid examples or tales.
Here is everything students need to know about writing a solid college essay, from coming up with essay topics to editing the final text.
How do you write a college admissions essay?
Writing an Essay for College
Before starting to write their essay, several experts advise pupils to create an outline.
However, Sara Newhouse, a senior consultant at Enrollment Research Associates and a former vice president for admission and financial planning at Birmingham-Southern College in Alabama, asserts that there is no one right method to go about things.
She explains, "Your writing process is your own. Using a method that has previously helped kids to finish writing tasks for English and other high school classes is encouraged by Newhouse. An essay's first draft doesn't have to be flawless. Just dump your thoughts, Doe advises. Just write everything out on the page without editing yourself. Doe advises pupils to concentrate on their introductory statement if they are having trouble getting started. She claims that the hook, or first sentence, of an essay should draw the reader in.
Doe provided an illustration of a powerful hook from an essay written by a student she worked with:
What is the best topic for college application essay?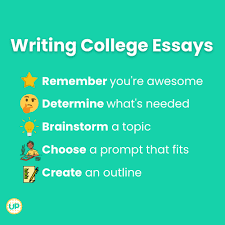 This is your chance to tell your story (or at least part of it). The best way to tell your story is to write a personal, thoughtful essay about something that has meaning for you. Be honest and genuine, and your unique qualities will shine through. Admissions officers have to read an unbelievable number of college essays, most of which are forgettable. Many students try to sound smart rather than sounding like themselves. Others write about a subject that they don't care about, but that they think will impress admissions officers.
Essay topics for college about life experiences
Who makes the best conversational partner? What do you talk about with them?
Describe an instance when thought or introspection helped you to comprehend something that was important to you.
Give an illustration of how you have applied your own critical-thinking abilities to a particular topic, project, idea, or area of interest. Describe an instance when a viewpoint that wasn't your own made you uncomfortable. What was your reaction?
What pieces of advise have you found to be most helpful? Who gave them to you, and how have you put them into practice in your own life?
Describe a recent event or action that had an impact on a community that is important to you.
Describe the subjects or issues you care about and why they are significant to you using examples from your personal, academic, or volunteer/work experiences.
What do I write in a personal statement?
Insider's perspective
Although personal statements may appear formulaic, admissions tutors do read them since they might be crucial to the selection process. Your personal statement might determine whether you receive an interview if you're applying for a highly competitive course.
James Seymour, the University of Gloucestershire's Director of Marketing and Student Recruitment, offers some important advice on writing a personal statement.
What makes a good personal statement?
This is your time to show us how enthusiastic and dedicated you are and what you can bring to a university. The vast majority of the time, institutions are looking for methods to extend an offer to you rather than reject you; your personal statement is your opportunity to assist them in this process!
You must first justify your desire for a course spot. Check out James' suggestions for things to include:
Describe your reasoning for making the decision and how it aligns with your future goals.
List any relevant academic or professional examples you have.
Show that you are familiar with the course content and any specialized topics you are interested in. Describe yourself by outlining any jobs you have held, your affiliations with teams or societies, and your interests and pastimes.
How long should an essay for college be?
Although there are "no specific word limits" for the Common App's primary essay, which applicants can submit to numerous universities, it recommends a maximum of 650 words. The Common App website reads, "While we won't typically stop reading beyond 650 words, we cannot ensure that an extremely wordy essay will maintain our attention for as long as you'd thought it would."
For institution-specific additional essays, which are normally approximately 250 words long, the word count is substantially lower. Be consistent with your five UCAS selections. Your other selections and allusions to them may make it difficult for an admissions tutor to consider you seriously. If your selections differ, please clarify in your statement. UCAS application is blind. Although admissions tutors are unaware of the other schools you've applied to or your priorities, you should nevertheless maintain consistency. Because UCAS applications are becoming more paperless, the majority of admissions tutors and officials will read your statement on screen, so be sure to keep it clear and brief.
Related artcle: ASSIGNMENT 06 - EN120 English Composition I
References
Balfour, Gillian, and Elizabeth Comack, eds. Criminalizing women: Gender and (in) justice in neoliberal times. Fernwood Publishing, 2021.
Bean, John C., and Dan Melzer. Engaging ideas: The professor's guide to integrating writing, critical thinking, and active learning in the classroom. John Wiley & Sons, 2021.
Hertweck, Friederike Chariklia. Three Essays in the Economics of Higher Education. Diss. Free University of Bozen-Bolzano, 2020.
Wingate, Ursula. "Academic literacy across the curriculum: Towards a collaborative instructional approach." Language Teaching 51.3 (2018): 349-364.