Nov 02, 2022 Journal entries
What are the main characteristics of a quality SWOT analysis?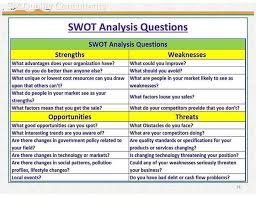 Strengths, Weaknesses, Opportunities, and Threats is referred to as SWOT. Using a SWOT analysis, you can evaluate these four areas of your company. SWOT analysis is a tool that can assist you in determining what your business does well right now and creating a winning strategy for the future (Jetoo et al.,2019).
Your weaknesses and strengths are internal things. The threats and opportunities are caused by outside factors. A SWOT analysis considers four factors, as its name suggests: Resources and qualities that exist internally that contribute to success, such as a wide range of products, devoted clients, or effective customer service. Success is more challenging to achieve due to internal variables and resources such a poor brand, too much debt, or insufficient staffing.
Strengths- These are the attributes that help us carry out the mission of the organization. These serve as the framework on which continued success can be built. Strengths might be observable or abstract. These include the areas in which you are knowledgeable or skilled, the personal and team characteristics that your employees share, and the distinctive elements that give your business its identity. Strengths are the positive elements of a company or its capabilities, such as its human resources, capability in terms of processes, financial resources, availability of goods and services, and brand loyalty and customer goodwill. Huge financial resources, a diverse product offering, a lack of debt, devoted personnel, etc. are some examples of organizational strengths.

Weaknesses - Weaknesses are the characteristics that keep us from fulfilling our purpose and reaching our greatest potential. These flaws have a negative impact on the development and success of the organization. Weaknesses are the elements that fall short of the expectations we have for them. A company's weaknesses may include deteriorating equipment, a lack of facilities for research and development, a limited selection of products, bad decision-making, etc. Weaknesses can be changed. They need to be reduced and got rid of. For instance, new equipment can be acquired to replace outdated equipment. Large debts, high personnel turnover, difficult decision-making processes, a limited product line, significant raw material waste, etc. are more instances of organizational shortcomings.

Opportunities - Opportunities are presented by the environment in which the company operates. These occur when a company can make the most of its surroundings to devise and carry out tactics that help it increase its profitability. Utilizing chances can help organizations acquire a competitive edge.

Organizations should exercise caution, be aware of opportunities, and seize them when they present themselves. It is challenging to choose the aims that will benefit the clients and get the required results. Market, competition, industry/government, and technology all present opportunities. Deregulation and rising telecommunications demand present new businesses with an excellent opportunity to enter the industry and compete with established businesses for customers.

Threats - When external factors endanger the dependability and profitability of an organization's operations, threats are present. When they relate to the flaws, they increase the susceptibility. Threats cannot be stopped. The survival and stability may be at jeopardy when a threat materializes. Examples of dangers include employee dissatisfaction, constantly evolving technology, growing rivalry that results in surplus capacity, pricing wars, and decreased industry profitability, etc.
Advantages of SWOT Analysis
The design and selection of strategies benefit from a SWOT analysis. It is a powerful instrument, but there is a significant amount of subjectivity in it. Use it as a guide rather than a prescription for the greatest results. Businesses that are successful build on their strengths, address their deficiencies, and take precautions against both internal and external dangers. Additionally, they keep an eye on their overall business environment and are quicker than their rivals to spot and take advantage of fresh chances (Schoemaker, 2018). The following are some ways that SWOT analysis aids in strategic planning: It serves as a source of data for planning.
Improves organization's strengths.

Reverses organization's weaknesses.

Maximizes its response to opportunities.

Overcomes organization's threats.

Helps in identifying core competencies of the business.

Helps in setting of objectives for strategic planning.

It helps in to plan the past, present and future so that by using past and current data, future plans can be chalked out.
What is quality SWOT analysis?
SWOT analysis is a framework for identifying and analyzing an strengths, weaknesses, opportunities and threats in an organization. These make up the SWOT acronym. The goal of SWOT analysis is to increase awareness of the factors that go into making a business decision. It also helps in establishing a business strategy. It is also used by nonprofit organizations and, to a lesser degree, individuals for personal assessment. SWOT is also assesses initiatives, products or projects. As an example, CIOs could use SWOT to help create a strategic business planning template or perform a competitive analysis. According to (Tandon, 2019) the SWOT framework is credited to Albert Humphrey. He tested the approach in the 1960s and 1970s at the Stanford Research Institute. Additionally, SWOT analysis was originally developed for business and based on data from Fortune 500 companies. SWOT analysis is critical strategy in formulation and selection. It is a strong tool, but it involves a great element. It is best when used as a guide, and not as a prescription. Successful businesses build on their strengths, correct their weakness and protect against internal weaknesses and threats. They also keep a watch on their overall business environment and recognize and exploit new opportunities faster than its competitors.
What are the internal and external factors of SWOT analysis?
Internal factors are the organization's strengths and weaknesses. External factors are the threats and opportunities. If an issue or situation would exist even if your business didn't (such as changes in technology or a major flood), it is an external issue. Threats are uncontrollable. When a threat comes, the stability and survival can be at stake.
Examples of threats includes:
- unrest among employees
- ever changing technology
- increasing competition leading to excess capacity, price wars and reducing industry profits
Explain the internal factors of SWOT analysis
Since forecasting is required to identify opportunities and dangers, many business owners believe that the first portion of the activity is simpler than the first. However, nobody keeps a crystal ball in the back room. Internal elements, on the other hand, are "there in front of them," ready to be taken into account. It is advantageous to include various persons in gathering the internal components for a SWOT analysis because they might be so numerous. And it's much better if they represent several company divisions. By doing this, individuals are more likely to approach the activity from their own perspective and the problems they face every day. Your SWOT analysis should be enhanced by other viewpoints. Moving forward, one small detail may make a difference: The internal factors in a SWOT analysis are assumed to be those that are ​within​ a business control. (This is unlike the external factors, which are considered outside the business.) It may help to think of strengths as those things that enhance your competitive advantage and weaknesses as those things that interfere with this goal.
Limitations of SWOT Analysis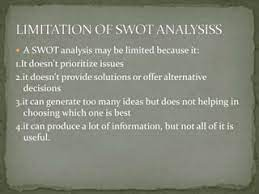 The SWOT analysis has several restrictions. It could make situations seem relatively easy to businesses, causing them to ignore important strategic contacts that might happen. Furthermore, given the high level of market uncertainty, classifying elements as strengths, weaknesses, opportunities, and dangers may be quite subjective. Although the importance of these four factors is emphasized by SWOT analysis, it does not explain how a company may recognize these factors on its own.
The management is not responsible for some SWOT Analysis restrictions. These consist of
Finding a new market for a product that doesn't have an international market because to import limitations; etc.
Internal restrictions might consist of:
inadequate facilities for research and development;

defective goods as a result of poor quality control;

poor working relationships;

lack of competent and productive labor.
Your workforce, or human resources, enables you to create the best product you can. In addition, your workforce can build your company's reputation by providing an optimum level of customer service and attention to your clients' needs. These things make up the first set of internal factors to consider in your SWOT analysis. Business Weaknesses In contrast to strengths, your business may experience some weaknesses. You can produce the greatest possible product thanks to human resources. Finally, your staff may enhance the reputation of your business by giving your customers the best possible service and paying close attention to their demands (Yu et al., 2018).
Conclusion of a SWOT analysis
In conclusion, after a recognition of weaknesses and threats in any company, the first step to is to counter them. A swot analysis should be used with a robust and creative set of strengths and opportunities.
References
Jetoo, Savitri, and Varvara Lahtinen. "The good, the bad and the future: a SWOT analysis of the ecosystem approach to governance in the Baltic Sea Region." Sustainability 13.19 (2021): 10539.
Schoemaker, Paul JH, Sohvi Heaton, and David Teece. "Innovation, dynamic capabilities, and leadership." California management review 61.1 (2018): 15-42.
Tandon, R., Arrawatia, D., & Amit, M. (2019). Swot Evaluation of Training Framework: A Review of the Processes, Strong Points and Roadblocks of Training and Development for the Indian Private Banks. Journal of Management (JOM), 6(2), 36-43.
Yu, H., Sedlezky, S., Wong, K., Hernandez, T., Larsen, P., & Stephenson, G. (2018). Human resources management. Pop-up Retail Strategies in an Omnichannel Context.